About Axbridge
Axbridge is a small picturesque town in Somerset, situated in the Sedgemoor district on the River Axe, on the southern edge of the Mendip Hills. The town has a population of just over 2000 people.
In Saxon times, this beautiful area was a Royal hunting centre; there is a building in the town called King John's Hunting Lodge, but this dates from a later period, around the 1500's. The lodge is a timber-framed building and has some very interesting architectural features; it is open to the public on most days.
The town of Axbridge surrounds a central square around which are shops, hotels and inns; several of these place tables and chairs outside in the summer months, giving the town a flavour of the continent and provides the visitor with a very enjoyable experience. To the corner of the square is a steep flight of steps leading to a 13th century church. This church has some rather unusual plasterwork and a 15th-century font.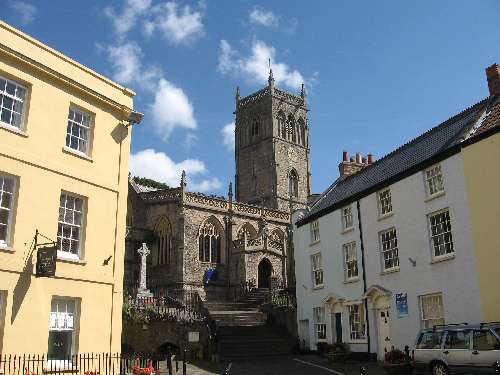 Axbridge is on the edge of the Somerset levels, surrounded by a patchwork of fields and pastureland grazed by cattle and sheep. Nearby, a short walk away, is Cheddar reservoir; this is excellent for an evening's stroll and for sailing. The Bristol Corinthians Yacht Club is based there.
Axbridge is in close to Cheddar and the attraction of caves such as Gough's Cave and Cox's cave, plus the spectacular scenery of the Gorge and surrounding Mendip Hills make this a top tourist venue. Wookey Hole is but a short drive away, offering another extensive cave system (thought to connect to the Cheddar caves), plus the victorian paper mill, where you can see paper being made via traditional methods and literally 'spend a penny' in the victorian arcade.
A little further afield is the historic cathedral city of Wells(10 miles), with its awe-inspiring Cathedral and associated buildings; to the north lies Bath (27 miles), with its wonderful Georgian architecture. To the west of Axbridge are the seaside resorts of Berrow, Burnham-on-Sea and Highbridge.